Choosing artwork to perfectly match or mix and match with your home's wall colours is a perfect way to blend your personality into your space. This artwork can be the focal point in the room, or you can position it to complement your existing furniture layout. Picking and displaying artwork for your home can make you feel a bit overwhelmed — they come in a wide range of colours, patterns and styles, and it can be hard to settle on a decision that 'feels right'. But when done well, home interior decoration can be one of the most fulfilling experiences. The tricky bit is fitting in an art piece you love into your existing décor.
Artwork can change the dynamics of your home interiors in surprising ways; it can turn around a drab wall and transform it into the 'hero piece' of your room. These fine details make a huge impact. You hold the key to making it an expression of your personality, and we hope we can inspire and get you one step closer to finding the perfect place for your art by asking you four easy questions.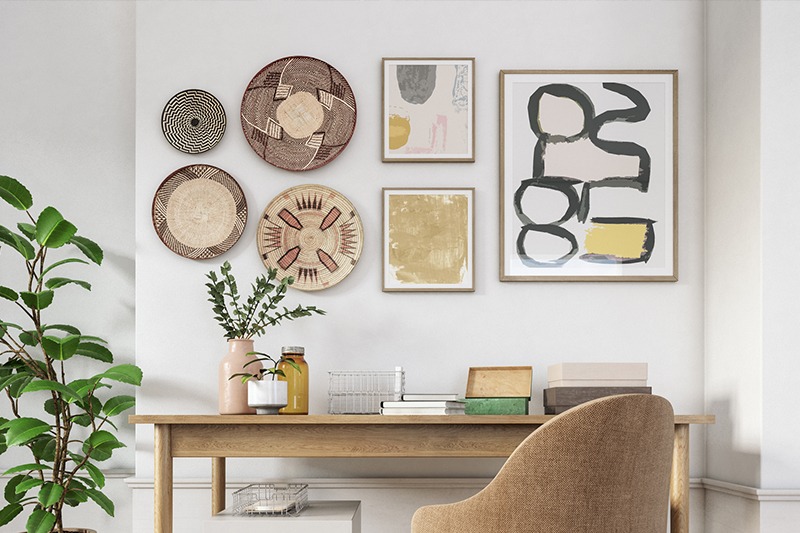 Do you want to go for a neutral or vibrant look?
The colours in your room matter the most when choosing the artwork to go with it. A pop of colour could light up a room with a neutral colour scheme. And artwork with a muted colour scheme can bring balance to vibrant coloured walls.
Always place artwork with minute details in a well-lit space, while in a room with less light, go with artwork that is less detailed. The colours and light in the room have a significant role to play here. A smaller sized artwork can also add a lot of personality to your room when used with the right coloured walls.
Choose artwork that matches with the colours already in your room for a cohesive, harmonious look. If your room has a contrasting colour palette, then use artwork with contrasting colours, matching it with other décor items in the room such as pillows, flower vases or lampshades.
Alternatively, if you are hung up on a specific art piece, you can work things around your room by painting the walls to match the artwork. It's easy if you follow the basics; place the artwork in the room of your choice and visualise the wall in different colours to find the perfect match using the free Taubmans Colour Visualiser tool. You can also create your own colour with Coloursmith.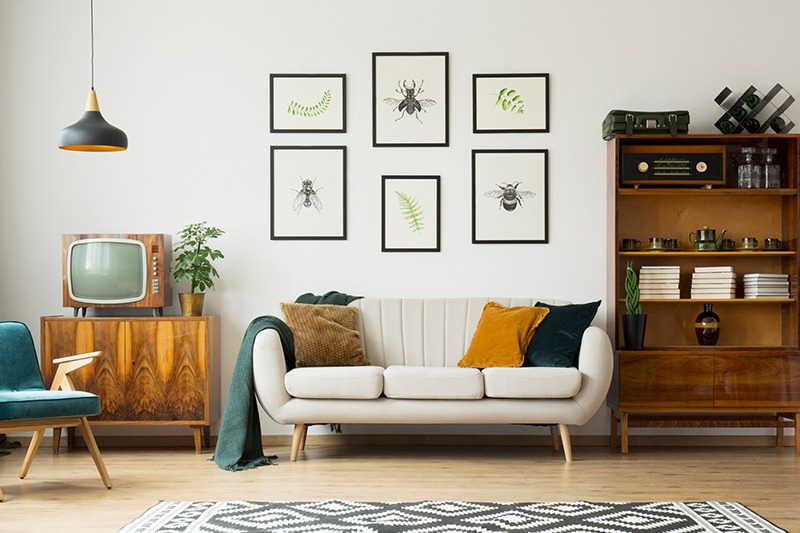 '
Where in your home should the artwork sit? 
Take a look around your home and imagine where you'd like your artwork to reside. Does the artwork capture the true essence of your family? Does it deserve the pride of place in your living room?
Some tips to get started:
Canvases with photos of you and a partner or your family will work well in the bedroom or living room
Abstracts artwork or retro prints will work well in the living room or hallway
Landscape artwork will work well in the hallway or above the fireplace
Artwork with food goes well in the dining room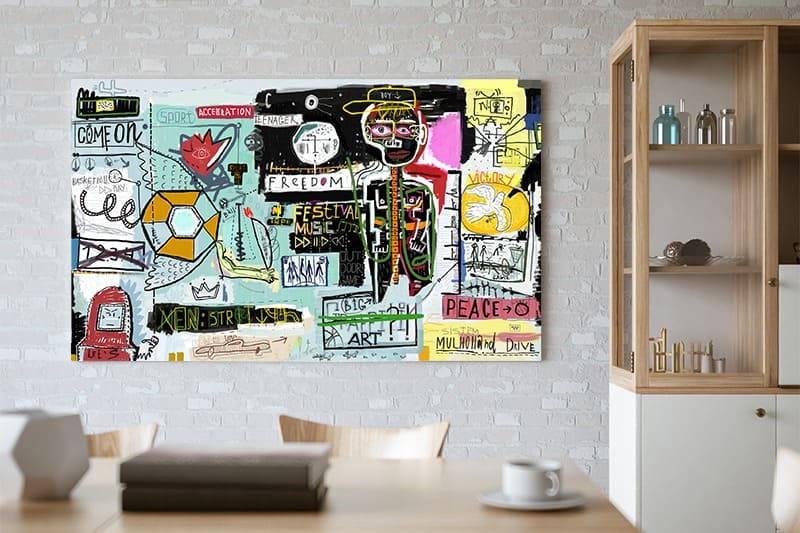 How big is the room or wall you're thinking about?
Measure up your space carefully, as the size of the room and wall really counts. Choosing a wall and a proportionate artwork is crucial; you don't want the wall to look blank or too cramped. The artwork could end up looking way too small or take up too much space on the wall. Also, consider if the artwork will hang above the fireplace or sit above the sofa. Maybe adorning a plain wall will result in a better look?
Whether your artwork is small or big, you can still make them work with clever placements. Small pieces go well alongside stairs, bathroom or hallway, while large ones can make a striking impression when placed on a plain wall in the living room, bedroom, or entrance hall.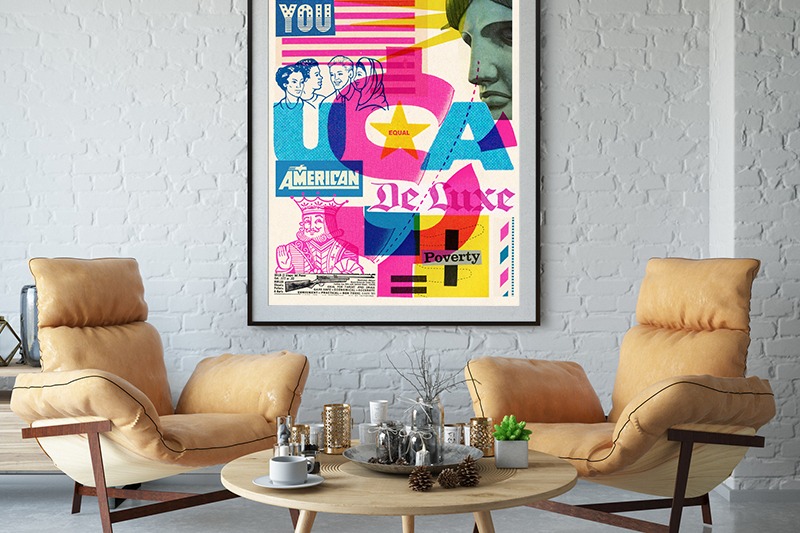 What's the style of your home décor— casual, contemporary, formal, classic or playful?
While it's easy to obsess over a piece of art you love, you shouldn't close your mind to the possibilities of exploring other art pieces. Whether it is a photograph of you and your partner, a canvas or a traditional antique frame, draw inspiration from your current home decor style and select the piece that reflects your individual personality and that of others you share your home with.
Many people also design their interiors around a theme — Hamptons, Urban, Bohemian, minimalistic or cultural. It could also be a story wall with photos from your wedding, a new baby, pets, family photos or a holiday. You could also use a mix of artwork with contrasting prints, varying sizes and colours. This collection will transform your wall into a gallery with a number of contrasting pieces.
The important thing is to stick to a consistent style. While there is some room to improvise and embellish, the closer you stick with theme, the more aesthetic and well-designed your place will look.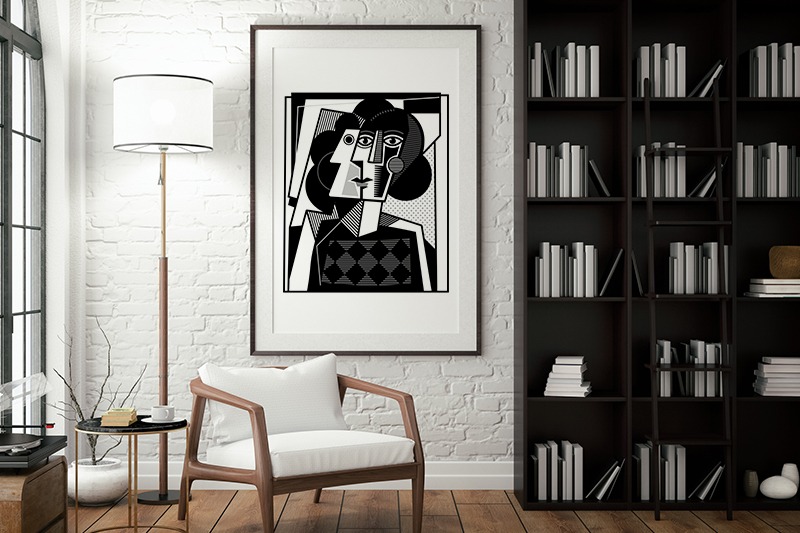 Bringing it all together
There is no right or wrong here; it is about your personal taste and the personality you want to bring into your home. If your home interiors follow a minimalistic theme, you could use your artwork to bring colour into your space. A bright coloured artwork or one with plenty of depth, texture and detail can work wonders in rooms with a minimalistic look or complement rooms with a distinctive style. Let the artwork speak for itself as a stand-alone piece. Hopefully we've answered some of your biggest questions around fitting in artwork into your home. But the best way is to let loose and experiment. After all, what's the point if you're not having a little fun? Solet's get going and spruce up your interior with some awesome artwork!