Bringing the Essence of the Beach into Your Home
For all the beach lovers out there, recreating the tranquil vibes in our own space is often the goal. Luckily, there's no shortage of ideas on how to bring a salty sea essence into the place where you spend most of your day. The key is not to overdo it—sure, that giant anchor and fishing basket really tie the room together in a seafood restaurant, but at home we're aiming for a subtler design touch. Carefully selected colour palettes and decorating cues that infuse a familiar sense of seafaring, long summer days outdoors, and effortless beach living.
You can infuse the colours, textures and patterns of the ocean into virtually any room in your home. For example, blue-and-white striped curtains or fluffy white bedding for a shoreline feel.
For a high energy, bright daytime vibe you might create a feature wall with Aquamarine Sea. Or change the feel completely, capturing the essence of sitting on the beach at night with Shimmering Sea.
Tropical greenery such as ferns or palms bring some fresh air and natural hues to your living space, and beachy accessories like colourful bowls, starfish trinkets, or seashells let your personality shine through.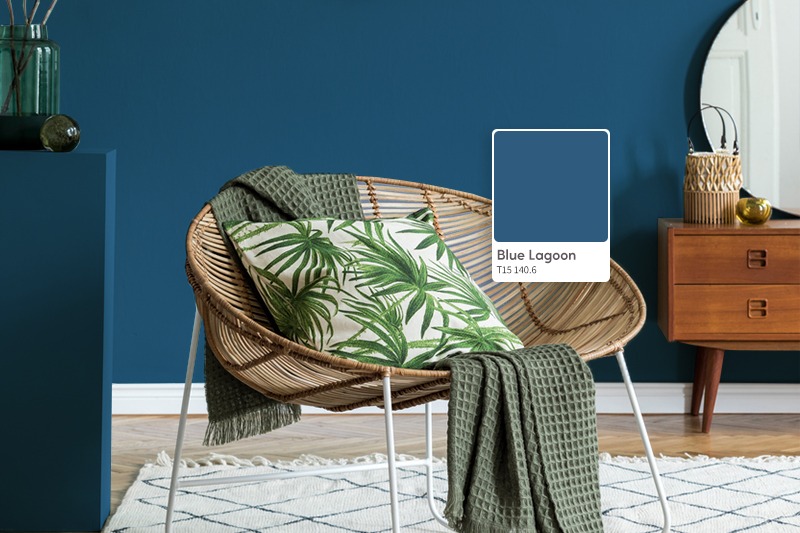 Bedroom Ideas for the Feel of Seaside Living
The seaside bedroom is a place that you can escape to. It's a refuge from the hassles of mainland living, where you can relax to the soothing sound of waves crashing on the shoreline. Seaside bedrooms are designed with calming colours, with a palette of darker blues to give a sense of the summer day fading to evening.
With a natural theme woven throughout—boulders, sandstone, simple unvarnished furniture, wooden floorboards, a bamboo ceiling fan perhaps—less is usually more here. Let one or two items feature amidst an uncluttered, comforting space.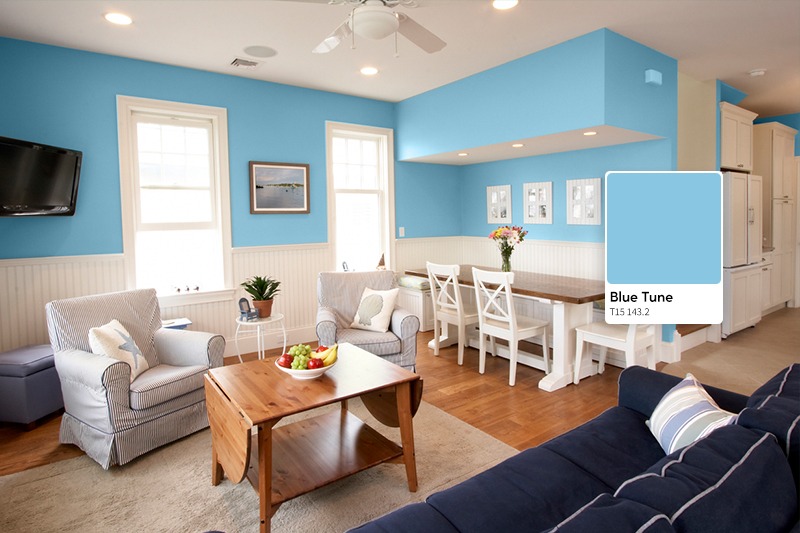 Living Room Decorating Ideas in the Coastal Theme
Our family and guests spend a lot of time socialising in the living room, so coastal themes will be appreciated most in the space where we relax together.
Some items that are appropriate for this area and help achieve that beach vibe will be fish tanks, driftwood pieces, seagrass, wood or stone flooring—even a small rock garden ornament with beach sand.
Enhance the coastal feeling with pops of colour around the textures from your nautical treasures but create one uncluttered space for a feature wall that lets you paint a decisive splash of blue or an earthy sand colour.
Incorporating blue accents throughout the space in a variety of shades can evoke a range of calming emotions. You may want to experiment with our online colour tools to find the hues that speak to your inner surf lifesaver.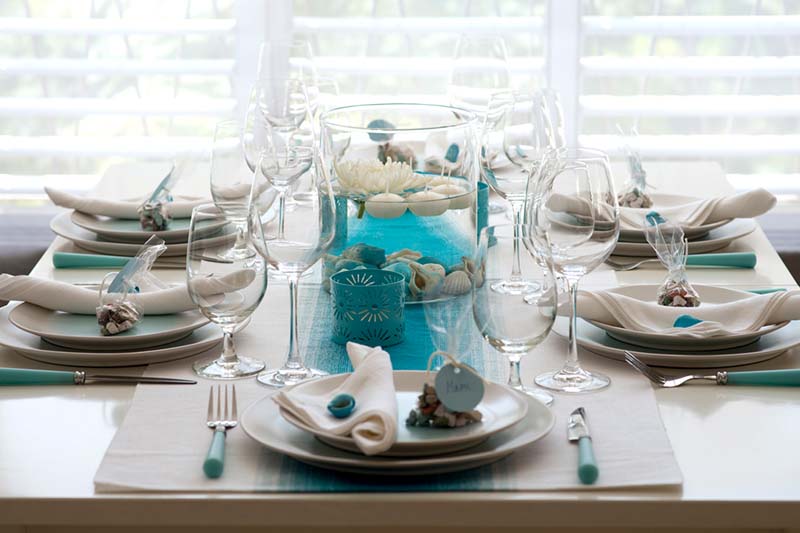 Beach House Dining Room Ideas
In the dining room, creating a beach house atmosphere might be less about visual cues and more to do with the way the space feels. An open floor plan and flexible table configuration let you arrange small or large family meals, accommodating guests with extra seating.
On holiday we might sit around a large table gazing out at the sea—try to recreate this vibe by making one window or wall a feature to arrange people around. This can be as simple as a splash colour like a living room feature wall, or some tropical foliage visible through a window.
In the small space of your coastal-themed dining room, how you frame that feature area determines the aesthetic and feel of the whole room.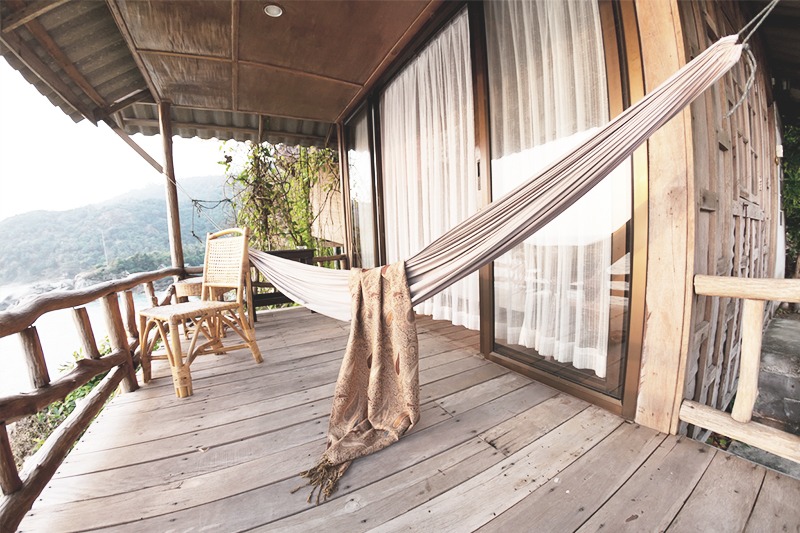 Bringing the Beach to Your Outdoor Areas
While each of the rooms in our ideal beachy living home features distinctive notes of ocean living, outdoors is where we bring the whole band together, incorporating a little bit of everything.
Think about the hues you're using indoors, and choose colours that either match or compliment the palette. You may want to choose slightly more invigorating sets of colour to distinguish between indoors and out. Neutral whites and creams are great base layers for the majority of outdoor surfaces, providing a modern look and aligning with contemporary beach house exteriors.
Consider using only minimal splashes of calming blues with earthy beiges and tans to achieve the beach look in the less conspicuous places around your home—with street-facing frontage, less is always more.
Outdoor painting can be a fun activity for all ages, including children. Painting is also an opportunity for the whole family to get together outside and be active in the fresh air!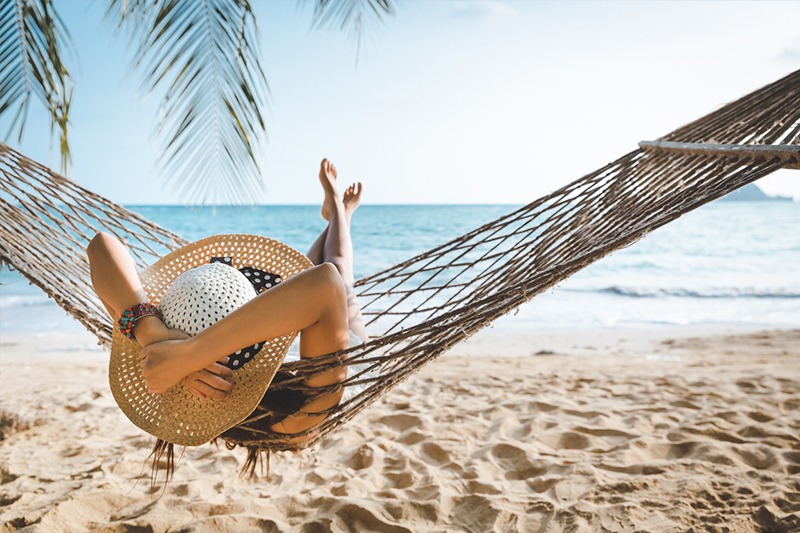 Your Beachy Home is Now in Reach!
This is just the start of what you can do to achieve that beachy atmosphere all year round. There are many more ways you can put your creativity to use while decorating and painting for the ocean lifestyle—use our guide as a jumping off point, and let your imagination take hold!
Making the outdoors a fun place to spend summer really makes the change in seasons feel like a holiday. Want to see what a colour will look like on your patio? Upload a photo to our paint visualiser here.