Feature walls can add a creative flair to your home with their countless combinations of textures, shapes, colours, and patterns. Also known as accent walls, they're great for adding a bit of life to your walls, and depending on what material you choose, they can be very affordable. They don't have to be grand projects either; a smaller feature wall can make a wonderful addition to the aesthetic of your home.
However, it is also easy for feature walls to go wrong, so it pays to keep in mind the do's and don'ts when creating your masterpiece: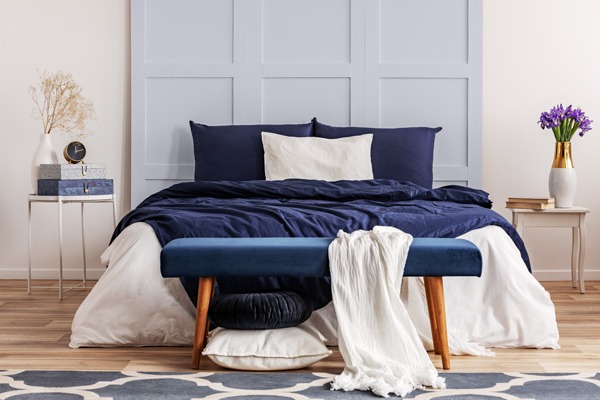 Colour of walls: Violet Eyes, feature wall: Seaside Daisy
The Do's:
Do make sure the scheme complements your room.
Going big and bold with colours and patterns can be wonderful, but if it clashes with everything else in the room, it can look jarring and out-of-place. Take time to plan your colours and patterns. Whether you're going for bright and vibrant or deep and sombre, be sure it works with the look you're going for and complements the furniture you'll have in the space.
Do use it to define your space.
Accent walls are a great way to define a space, especially in an open-plan home or in multiple-use spaces. Such areas can be tricky to define because they merge into other spaces in the house, but a well-placed accent wall can break up the monotony and create a focal point for your aesthetic. For example, a feature wall can highlight the dining area in a combined living or dining space and make it stand out without disturbing the theme of your home.
Do use paint to update your feature wall.
Looking for an easy and inexpensive way to update your space without making a big commitment? Paint is your best friend. The sky is the limit when it comes to creating patterns, and it is the easiest to change should you decide you want to try something different. You don't have to limit yourself to just paint, however. When combined with textures like wood, stone or tiles, you can create an artistic visual effect that really brings out the character of your home.
Do consider wallpaper.
Wallpaper is making a big comeback and is a quick and easy way to make a feature wall. Many people avoid wallpaper because they feel it's old-school or don't want the hassle of taking it down. But wallpapers have a come a long way, and there are some very modern designs that come in easy peel-and-stick options which are easy to remove whenever you feel like updating the look.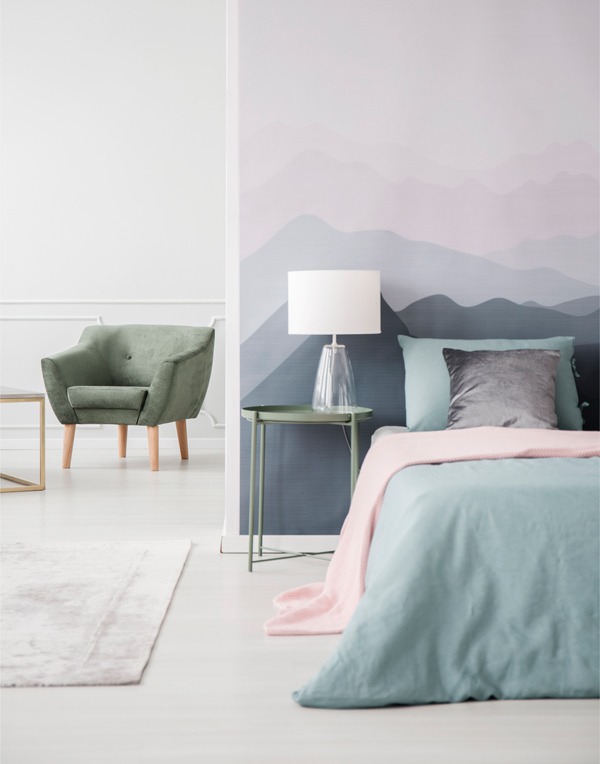 Colour of back wall: Innocence
The Don'ts
Don't just pick a wall at random.
A feature wall in the wrong place can be chaotic and ruin the aesthetic of the entire space, no matter how well-designed it is. The feature wall should be used to highlight the room's existing focal point. Make sure its placement works with the layout of your room and it highlights the accents that are already there. Good candidates for feature walls are the spaces that hold your fireplace, TV or your bed's headrest in the bedroom. Let the room's architecture guide you to the best position.
Don't be afraid of commitment.
If you are mulling over a bold pattern or colour and feel it'll work, then just go for it. Don't be afraid to commit. It can be daunting, especially when you begin, but if you've done your planning and can envision how it will all 'hang together', you should have a winner on your hands. If things don't work out, you can always start over with a new paint job.
Don't overwhelm a busy room.
It's easy to clutter up a space with too much colour, especially when working with smaller, crowded rooms. Even a sleek feature wall can disturb a room that already has too much going on, so use your judgment when deciding where the feature wall should go, if at all. A general rule of thumb is that feature walls need room to breathe, and are better suited for bigger, open spaces.
Don't be half-hearted about it.
If you're going for a feature wall, own it. It's a style statement, and like an art piece in a gallery, it needs open space around it to be truly appreciated. And like any piece of art, you should feel proud to own it! If you have any doubts on whether it will work for your space or not, test out the colour with a Taubmans sample pot from your nearest Taubmans Professional Trade Centre or your local Bunnings. A feature wall should be a highlight and source of pride, not a consolation prize. Now take a deep breath and let your creativity flow!
Need a little more help planning your feature wall? Check out our paint visualiser to find the perfect shade to compliment your living space.