Any entertainer knows that having an inviting and functional space for your friends and family to gather is vital. Just like interior rooms, having a functional patio that can be spruced up for the seasons helps to extend your home and entertaining space. Your outdoor patio can be transformed with a few simple additions and styling. We break down our top tips to makeover your outdoor space for an envy-worthy patio.
Seating
When deciding the correct seating for your patio, a few key pieces are all you need. Patios should be retreats that offer a peaceful respite from everyday stress. Patios should be just as relaxing as your indoor living room. Start with a few comfy chairs and a table for resting drinks or books.
If you have a large backyard, creating separate spaces helps bring even more function to your home. Try creating a dining table space that is separate from an outdoor lounge or firepit. Just be aware that outdoor furniture will need to be heavy enough to stay put on windy days. Think wood, stone or metal materials.
Only have a small space to work with? A pair of classic wicker chairs with a coffee table is a simple yet effective way to start your outdoor space. Finish the look with accessories like lights and outdoor pillows.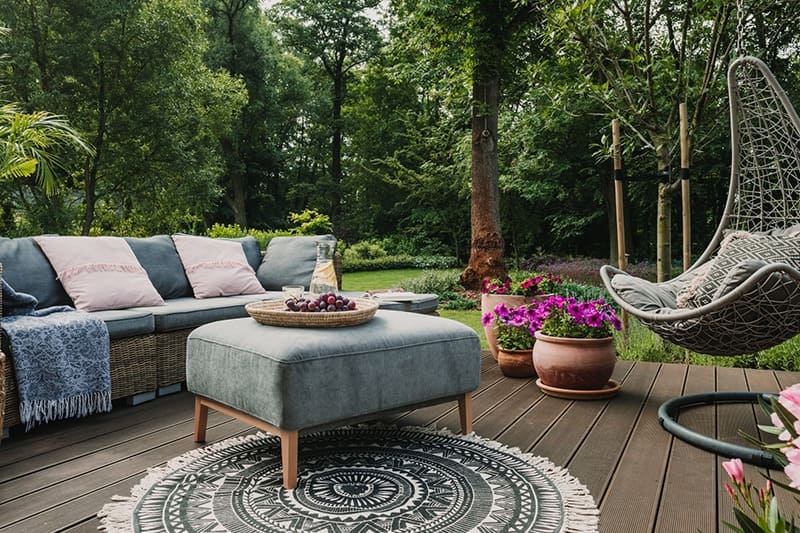 Colour Scheme
Selecting a colour palette for your outdoor patio is just as important as having a cohesive colour palette for your indoor space. Elevate your backyard patio by choosing a colour palette that is cohesive with outdoor pillows, furniture, outdoor rugs, or pot plants.
Not sure what colour palette best matches your backyard? Opt for neutral colour palettes and let the greenery of your backyard be the star. Struggling to visualise a colour scheme without walls to swatch? Our Colour Visualiser allows you to upload a photo and play with how a colour will suit your space.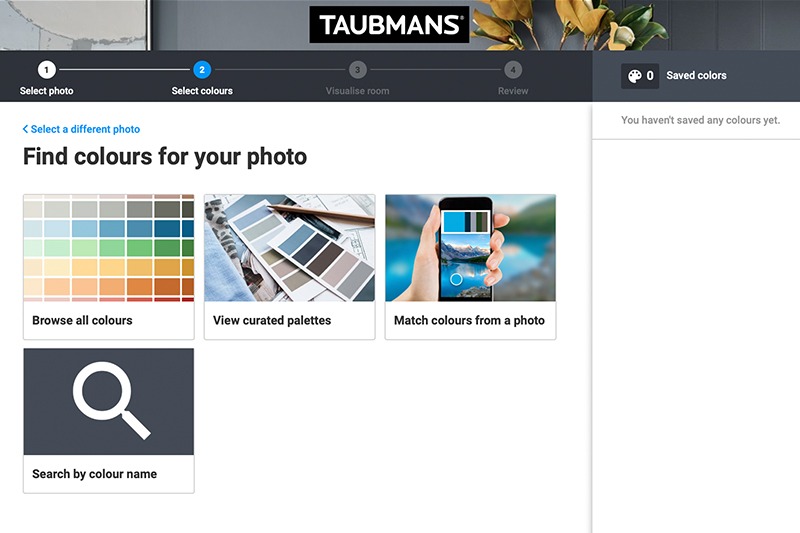 Lighting
How you light your patio can change the mood and look entirely. Especially in summer, you'll be wanting to spend most of your time outdoors even when the sun goes down. Lighting your outdoor space can prevent accidents and create a mood.
For functional lighting think spotlights on steps, downlights along a feature wall, or up lighting against trees. Mood lighting such as festoon lights or fairy lights can be added to your garden pergola or strung up above your seating space. Lanterns are also a fantastic way to style a seating space and provide some mood lighting. Try looking for solar-powered lighting solutions to give you more flexibility away from power sockets.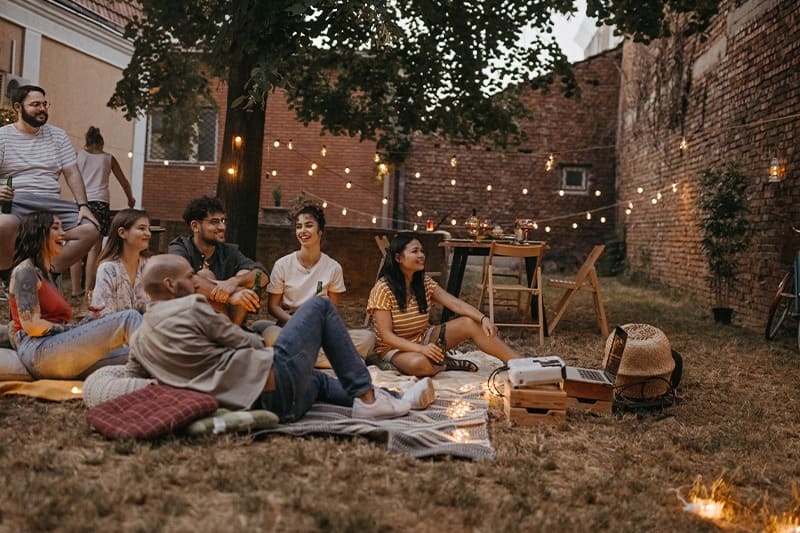 Deck Refresh
Is your deck in need of a little TLC? You'd be surprised how simply oiling your deck can completely transform your outdoor patio. Like anything exposed to the elements, some occasional maintenance is required to keep it looking new. See this guide on getting your deck entertainment ready with Johnstone's Exterior Deck Oil.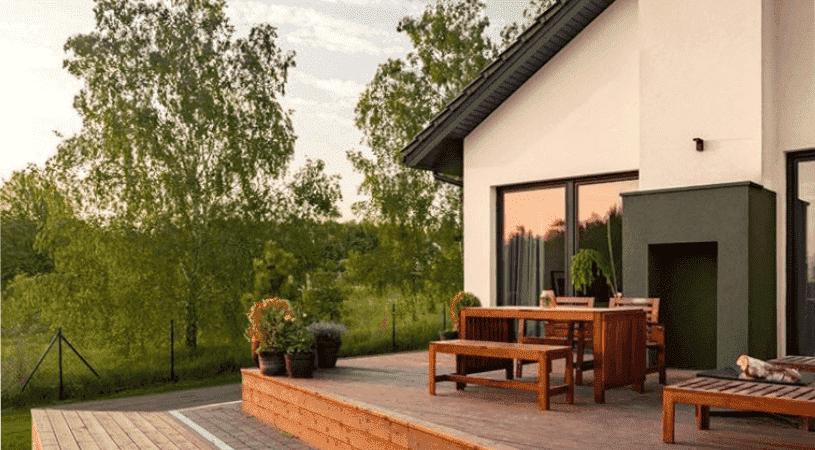 Unused Space
Don't have a deck or paved area? No problem! Easily build your own patio area by laying down some gravel, woodchips, pavers or bricks to create a different surface in your backyard.
Once you've laid out your foundation, placing outdoor seating and accessories will transform your outdoor patio into an entertaining hub. For loose gravel or woodchips, adding an outdoor rug works both as a style piece and a cushion for bare feet. Pro-tip, build a path from your house to the new patio area for easy access.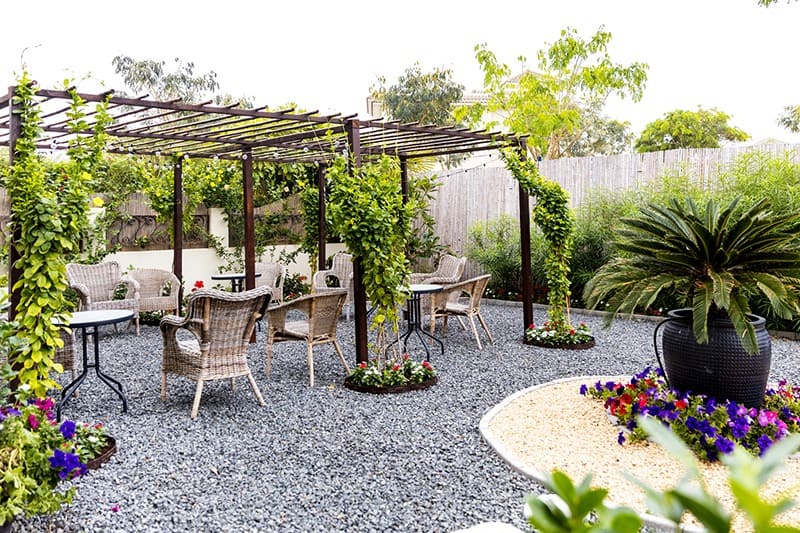 Seasonal Swaps
For an outdoor patio that can be enjoyed all year round, having shelter from the weather is essential. This can be done through a covered pergola or outdoor umbrella. If this isn't in the cards, having blankets and an outdoor heater will easily keep your space useable on clear winter days.
Another great centre piece that helps your outdoor patio become a focal point in the colder months is placing comfy chairs around a fire pit to roast marshmallows!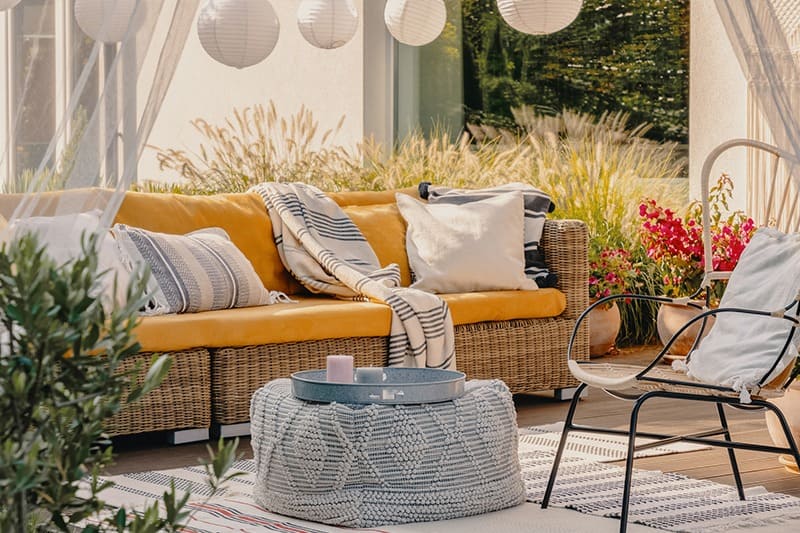 To help you make smarter colour choices and estimate the quantity of paint needed, see our Colour Tools - Taubmans Paints & Colours.