Helping communities impacted by drought, bushfires and floods
Your tin of Taubmans paint spreads so much further throughout our latest In it Together  paint drive during March and April, tipping in towards a $180,000 donation to GIVIT  to help Aussie communities recover from floods, bushfires and prolonged drought.
GIVIT has already put some of the funds to work in the flood hit community of Corindi, NSW, where food, fuel and hardware vouchers have been provided to residents whose homes were inundated during the March floods.
GIVIT's NSW Manager Scott Barrett said, "Residents have lost essential household items, furniture, whitegoods, clothes, work equipment and more. GIVIT is working directly with councils, outreach teams, local charities and community groups who tell us exactly what's needed. Then, we work to meet these needs through our online warehouse, or by purchasing requested items locally using donated funds."
Support has also been pledged for rebuilding in the bushfire devastated town of Cobargo, NSW, including refurbishment of the historic RSL Memorial Hall for wide community use, and the new Cobargo Community Centre and Disaster Refuge proposed at the village showgrounds.
When bushfires surrounded Cobargo on New Year's Eve 2019, many residents had no option but to gather on the oval at the showgrounds to shelter, with nowhere else safe to go. The proposed multi-purpose building is designed to achieve a minimum 4 Green Star certified rating, net zero carbon operations and to meet the community's diverse needs for the long-term. Cobargo is determined not only to build back, but to build back better and we're proud to help the community realise this goal.
Following the devastating Black Summer Bushfires in 2019, we joined forces with GIVIT to help communities get back on their feet after such a challenging year and to rebuild in the longer-term. With the goal of raising $120,000 for relief and recovery efforts through our first In it Together paint drive, we proudly raised a $155,000 donation to GIVIT for their essential relief and recovery work.
GIVIT CEO Sarah Tennant said, "The incredible donation was used to purchase essential items and services needed by people and communities doing it tough, from parched outback farms in Mungindi to bushfire-affected communities in East Gippsland. We bought items locally, wherever possible, to help stimulate the recovery of local economies.
"We are so delighted to have Taubmans as a partner, and know the incredible difference this year's $180,000 donation will make to so many Australians."
GIVIT ensures people get what they need when they need it most – whether recovering from a disaster event, or experiencing hardship due to circumstances such as drought, domestic and family violence, homelessness, disability and mental health.
Ms Tennant encouraged all charities, schools, councils and community groups to register via GIVIT.org.au to access, at no cost, thousands of donations offered by generous individuals and corporates for the people and communities they're supporting.
GIVIT is free, private and easy to use, and currently supports over 4,000 charities across Australia. The national charity has matched more than three million donated items since 2009.
The latest In it Together paint drive ran from 1 March to 30 April 2021. During this period, a portion of the sales of select four-litre Taubmans paints at participating stores contributed to the donation.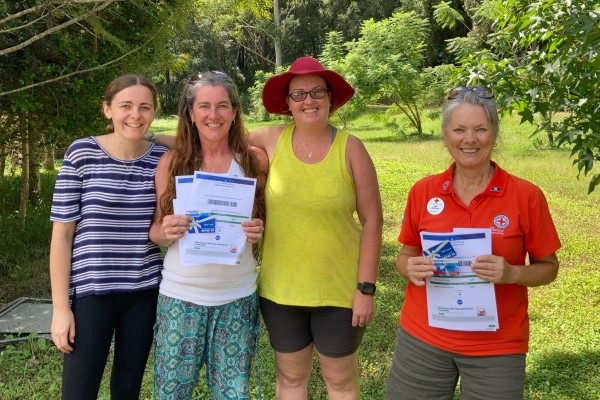 Upper Corindi storm disaster - affected resident Carla holding vouchers provided by Taubmans and GIVIT. Far right, Judy Jackson from Australian Red Cross and Mel Brooks from Coffs Harbour City Council, who work with GIVIT on the ground.