The global pandemic saw countless cancelled gym memberships and more people incorporating home workouts into their routines. However, rearranging your furniture every time you want to work out is an easy way to lose motivation. A fantastic way to combat this is by creating your own workout space to help you get in the zone. If you don't have the luxury of a spare room to convert, it's time to think about whipping your garage into shape. Creating a home gym in your garage is not only a fun project but will also save you time and money on gym memberships and commute time. Where to start? Let's break down the easiest ways to transform your garage into a functional home gym.
CLEAR OUT THE CLUTTER
Clutter easily grows over the years and your garage is often where all your clutter ends up. First things first – before you start your gym makeover, throw out, repurpose, or give away anything you haven't used in the last year. You can even make some money by selling things you do not use anymore – which means extra money for some gym equipment!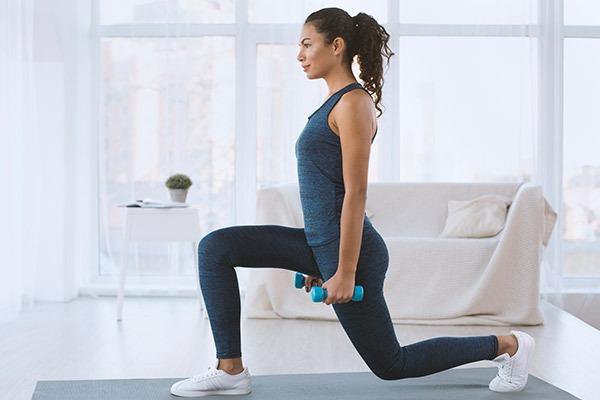 ADD A FRESH COAT OF PAINT
When repurposing any space, a fresh coat of paint will do wonders in refreshing the room to look brand new. However, it is especially needed in a garage that often collects dust and grime – not ideal when working out. When choosing your colour palette for the garage, consider what kind of workouts you will be doing. Most commercial gyms normally opt for brightly coloured walls with the most common colours being red, blue, green, or simply white. This is often due to colour psychology. Blue is thought to be calming and good for increasing concentration – ideal for a weightlifting room, while red encourages intensity and aggression – perfect for high intensity workouts and boxing. Green is perfect for bringing the outdoors inside, which can help your mood if your garage has limited natural light. Whichever colour you decide on, make sure it inspires you to get in the zone every time you step foot into your home gym. If you're not sure what will work best for your garage, use our paint visualiser to get a better idea of how it will come together.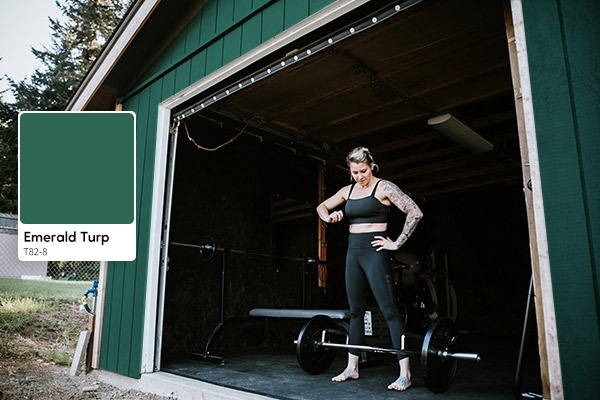 Colour of exterior: Emerald Turp
ADD A MIRROR
Mirrors are a versatile piece of furniture for your garage gym. Not only are mirrors a helpful for watching your form during exercises, but they also help to open a space, making it appear larger than it is – perfect for smaller garages.
CREATE EQUIPMENT STORAGE
Keeping your workout space as clutter-free as possible will help it feel like a commercial gym, so finding appropriate storage for your equipment is important. This is especially true if your garage gym is going to share space with your car. If you plan to use a lot of weights, consider buying a tiered cart to store varying hand weights so they stay off the floor. Repurposing an old bookshelf works wonders for organising smaller items or towels. For resistance bands, add hooks or nails to your walls for easy access. If you want to go the extra mile, adding a mini fridge to store cold face towels and water will be perfect for a post work-out treat.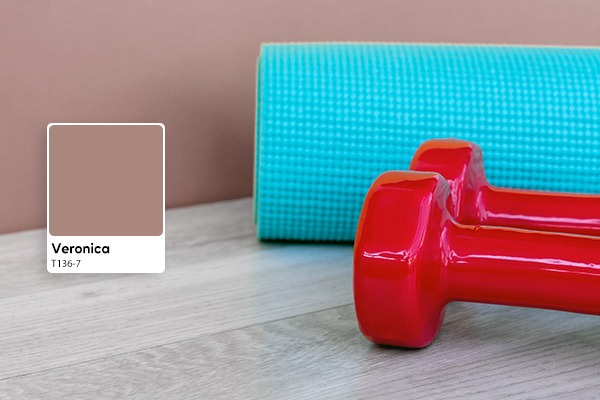 Colour of wall: Veronica
With a dedicated workout space in your home, there will really be no excuse to put off exercise, with the only commute being from the couch to your garage. Before starting your garage makeover, be sure to check out our paint calculator to nail the job on the first try. Happy painting!