DIY projects sound fun, but often get put in the too-hard basket if the project requires a lot of time, money or effort. If you're looking for a DIY project that you can start AND finish in a weekend, look no further than revamping your bathroom.
As one of the smallest but most frequented rooms in a home, any "style" choices (good or bad) are quickly noticed. Whether you are redecorating for the fun of it or needing to give your bathroom some serious TLC, we have broken down the quick tips for a weekend bathroom makeover.
A Fresh Coat Of Paint
From bold colour palates to crisp whites, a fresh coat of paint will add an instant facelift to your bathroom, with little cost involved. It is important to remember that damp areas like bathrooms will often require preparation before painting. Be sure to clean mould with bleach and warm water or cleaning vinegar, then use a primer that protects against the growth of new mould. To DIY your bathroom like a pro – tape off edges around light switches, mirrors etc. to avoid getting paint on them.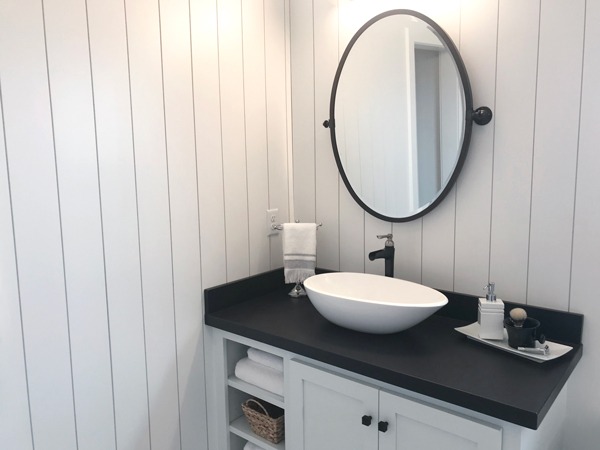 Colour: Pale Denim
Adding Storage
Clearing clutter will always make a room feel more spacious and immediately more aesthetically pleasing. Adding new storage solutions or free-standing storage can organise your belongings, creating a big impact with minimal effort. Matching your new storage solutions to your bathroom's colour palette will help tie everything together and act as new decoration. Alternatively, you can repaint an old storage solution to match your newly painted bathroom!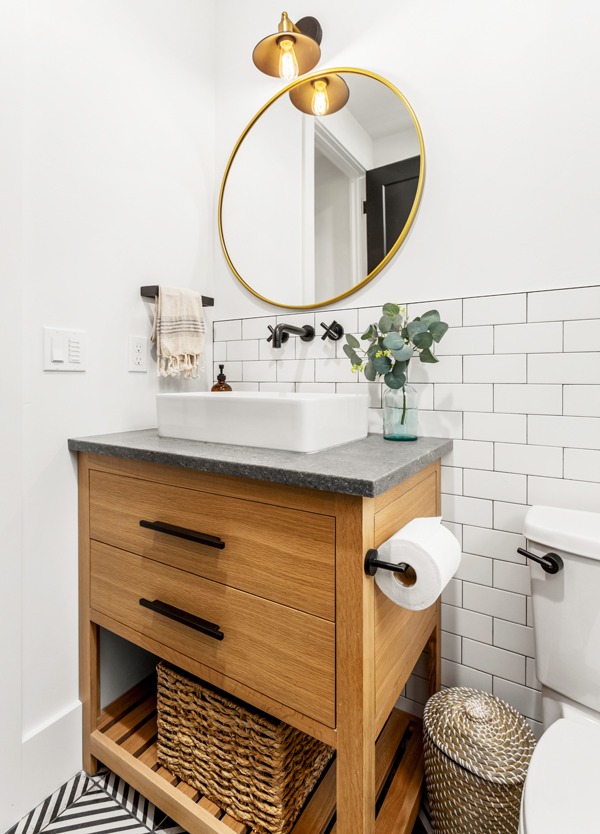 Colour: Tambo
Frame your Plain Mirror
The eye will always be drawn to a bathroom mirror and any object that gets a lot of attention is prime target for an instant style update. Adding a frame to your existing mirror can add an antique flair to your bathroom. Pro tip – find an old picture frame from an op-shop and repurpose it with paint that is suitable for high humidity areas. This addition is a simple yet effective to your bathroom.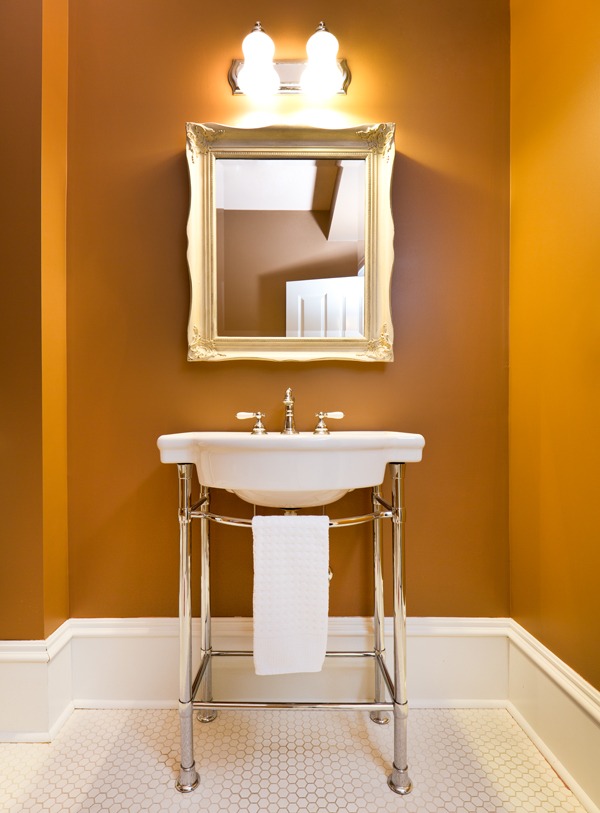 Colour: Cider Toddy
Upgrade your Lighting
Lighting can transform the mood of a space with a simple globe switch from aggressive fluorescents to soft warm tones. Deciding how much lighting you need will depend on what natural light you have already (if any) and buying globes with enough brightness to suit your needs. If you are feeling brave, you can buy coloured globes for an alternative way to inject colour. For a more sophisticated approach, updating your light fitting with a chandelier or glass fixture can change how the light diffuses over your walls. Be sure to find a light fixture that will be able to withstand high moisture.
Other Easy Enhancers
If you don't feel like buying anything new for the space or going through the effort of repainting the whole room, there are easy enhancers you can make that will still add a big impact. Giving your existing bathroom furniture a fresh coat of paint can breathe new life into your bathroom. Selecting one colour is a great way to tie the room together. Make sure to prep any wooden surfaces by sanding and use a paint that is suitable for wood or enamel like our Ultimate Enamel paint and prime
Make sure you've got the right amount of product with our paint calculator, and check out our guide on how to paint a room for additional help before you get started. Good luck, and good painting!