Working from home has shifted from a temporary solution during the pandemic to a more permanent way of working. There has never been a better time to transform your home office into a welcoming and productive space. But what goes into setting up the ultimate home office? We break down what you can do to create your dream productive home office.
Pick your colour
Colour has been shown to have a significant impact on our mood and therefore our productivity when working. When selecting your new office hue, avoiding cool tones will prevent your office from feeling too clinical. If you want to take it a step further, consider the kind of work you do in your office. Highly saturated, bright colours are stimulating (perfect for creative jobs), while muted warm colours are soothing (better for jobs requiring high focus). Our top picks? Warm neutrals are a versatile way to soothe your mood, while easily complementing an array of colour palettes. We would suggest a warm grey-beige or a warm white colour. See our neutral palette look book for inspiration. For something more eye-catching, opt for peach and soft corals. These colours are known to help improve focus and boost concentration and creativity.
Wanting something a little bolder than warm-neutrals? Highly saturated tones like jewel tones and earthy greens act as the perfect backdrop for inspiring creativity and maintaining focus. Try shades like our Empress Teal or Lake Placid. For even more inspiration, check out our Treasure Hunter look book.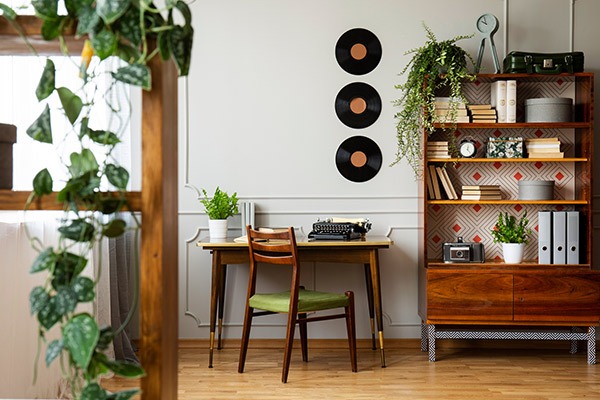 Plant some life in your office
Adding some greenery to your office space is a simple yet effective way to liven up your office. It provides you with extra oxygen and keeps you connected to nature while you are working indoors. You need a plant that does not require a lot of sunlight and is simple to maintain. Read our paint and plant combo article for more information.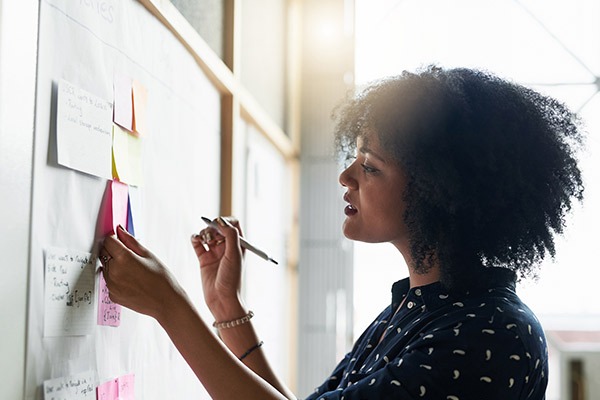 Get a whiteboard (or blackboard)
Organisation is key to helping you stay organised in your office. While there are many online tools to track your work, sometimes a traditional whiteboard (or blackboard) is what you need to visualise your thoughts and ideas. Having one hanging directly opposite or next to your desk will help you stay on track of work or any epiphanies you have.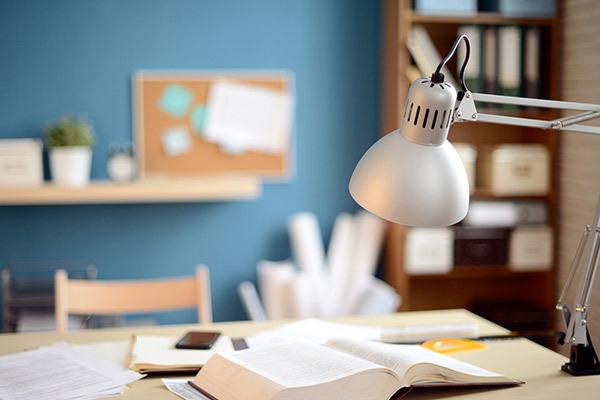 Light it up
If your job requires you to stare at a screen for most of the day, having ample lighting will help you avoid straining your eyes and reduce the deterioration of your eyesight over time. If you are blessed with natural lighting, position your desk near the window to reap the benefits natural light has on improving your mood. However, if your office does not have an abundance of natural light, adding a desk lamp or standing lamp near your desk will ensure that there is enough light for you to see clearly.
Revitalising your office space will get you excited to "go to work" in a space designed to your taste. Whether you are working part-time or full-time at home, you deserve to have an office space that can keep you productive – happy decorating!
Feeling inspired to spruce up your home office? Use our Find a Store tool to find your nearest Taubmans stockist today.